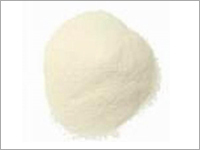 Xanthan Gum
Product Description
Xanthan Gum
Surviving the healthy competition in the industry, we have become a profound exporter and supplier of supreme quality Xanthan Gum. This gum is light-yellow free-flowing powder that is used for making ice cream, bakery products, frozen food, jelly, canned fruit, etc. Offered gum is processed with utmost care by our highly deft experts by utilizing supreme grade basic chemical compounds and pioneering techniques. In addition, this Xanthan Gum is available in diverse packaging options at nominal prices.

Features:

Effectiveness

Highly soluble in water

Purity

Non-toxic
Other Info:
Name: Xanthan Gum

Molecular Structure:

Molecular Formula: (C35H49O29)n

CAS Number: 11078-31-2

EC No.: 234-394-2
Exporter of xanthan gum, xanthan gum powder, industrial xanthan gum, which are mainly made from starch, is a high molecular weight polysaccharide produced through fermentation with Xanthomonas Camperstris under the conditions of special nutrient medium, pH, O2-supply and temperature, then purified,dried and milled into white-like or light-yellow free-flowing powder.
The main compositions of Xanthan Gum are D-glucopyranose glucan, D-mannose and D-glucuronic acid.
| | |
| --- | --- |
| product | Specification FCC |
| Appearance | Off-White Powder |
| Mash Size | 200 Mesh |
| pH | 6.0-8.0 |
| Viscosity1% | 1600~1800cps |
| V1/V2 | 1.02 - 1.45 |
| Cut Value | 6.0Min. |
| Loss on Drying | 13% Max. |
| Ash | 13% Max. |
| Nitrogen | 1.5% Max. |
| Pyruvic Acid | 1.5% Min. |
| Heavy Metals | 20ppm Max. |
| As | 3ppm Max. |
| Lead | 5ppm Max. |
| Total Bacteria Count | 2000CFU/g Max |
| Mold & Yeast | 100CFU/g Max |
| E.Coli | Negative |
| Salmonella | Negative |
Package: 25KG In outer cardboard drums or multiply paper bags,and 1KG in inner hot-sealed plastic bags.
Storage: Stored in the original drums or bags under the conditions of dry and below 25 shelf life of at least 12 months will be achieved.Keeping closed and avoiding long time connectioon with air after use.Better to be used out within two weeks if the inner package is opened.
In view of the strong hydrophilic property,an advising using method should be followed-pouring xanthan gum into water as slowly as possible and making sure it dissolves completely,or mixing xanthan gum fully with other material at a ratio or 1:10 in preparation for using.
Shelf life: Two years when stored properly in a well-closed container.
The Applications & Functionalities Xanthan Gum:
| | | |
| --- | --- | --- |
| Applications | ProportioninG | Functionalities |
| Fruit Juice Beverage | 0.2 - 0.3 | Thickner,Suspension Agent,Precipitaton Resistance,Improve Mouth-Feeling & Flavor-Releasing |
| Dairy Drink | 0.01 - 0.2 | Thickener,Suspension Agent,Anti-Delamination,Foaming Agent |
| Canned Fruit | 0.2 - 0.3 | Thickener,Suspension Agent,Extend Shelf Life, Improve Mouth-Feeling & Appearance |
| Ice Cream | 0.1 0.3 | Increase Micro-hole,Ice Crystallization Resistance,Improve Mouth-Feeling & Stability |
| Jelly | 0.5 - 2.5 | Sharp-Keeper & Water-Keeper,Improve Thicker,Increase Flexibility,Especially for Multi-Layer Jelly |
| Gel Food | 0.5 - 1.5 | Thickner,Promote Gel Formation,Improve Thicker |
| Soy Sause & Oyster Sauce | 0.05 - 0.1 | Thickner,Salt Tolerance,Oxidation Resistance,Improve Stickiness |
| Salad Dressing | 0.1 - 0.3 | Thickener,Shape-Keeper,Deydrate Resistance,Improve Mouth-Feeling,Convenient for Blending |
| Frozen Food | 0.1 - 0.2 | Increase Freeze/Thaw Stability,Thickener,Shape-Keeper,Fresh-Keeper & Dehydrate Resistance |
| Sausage & Luncheon Meat | 0.2 - 0.3 | Convenient for Filling & Shape Formation,Dehydrate Resistance,Tenderizing Food. |
| Canned Meat | 0.1 - 0.2 | Keep Flavor,Gelling Agent,Prolong Shelf Life,Convenient for Later Processing |
| Instant Food | 0.2 - 0.3 | Improve Flexinbility & Mouth-Feeling,Shape Keeper,Save Oil Consumption |
| Cheese | 0.2 - 0.5 | Accelerate Curding,Shape-Keeper,Dehydrate Resistance |
| Bakery Products | 0.1 - 0.3 | Heating Stablizer,Foaming Agent, Water-Keeper,Improve Mouth-Feeling,Extend Shelf Life. |
| Dehydrate Food | 0.2 - 0.4 | Accelerate Recovery,Keep Flavor |
| Pickled Food | 0.2 - 0.3 | Shape-Keeper,Watrt-Keeper,Water-Keeper,Flavor-Keeper Flavor-Keeper |
Contact Us
6-5, West City Best Space, No 158 ZiXuan Road, HangZhou, ZHEJIANG,, Hangzhou, Zhejiang, 310012, China
Phone :+8613306501279