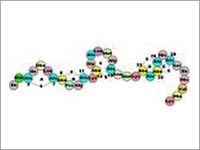 Nisin
Product Description
Nisin
Name: Nisin
Synonyms: L-Isoleucyl-(Z)-2,3-didehydro-2-aminobutanoyl-D-cysteinyl-L-isoleucyl-2,
Molecular Formula :C143H230N42O37S7
Molecular Weight: 3354.08
CAS Registry Number: 1414-45-5
EINECS: 215-807-5
Nisin is a natural antimicrobial agent used as a preservative in heat processed and low pH foods. According to the Food Chemical News Guide (a reference guide to the uses of foods additives permitted under Federal Law), a nisin preparation is a concentrate of dry material derived from the controlled fermentation of a naturally occurring milk bacteria Streptococcus lactis. This bacterium contains nisin, a group of related peptides (partial amino acid chains that make up proteins) with antibiotic activity.
Items

Standard

Appearance

Light Brown Powder

Identification

Complies

Moisture Content

Max 3%

pH of 10% aqueous solution

3.10--3.60

Heavy

Metals

Pb

Max 2mg/kg

Arsenic

Max 1mg/kg

Cu/Zn

Cu: Max 50mg/kg

Zn: Max 25mg/kg

Cu+Zn: Max 50mg/kg

Sodium Chloride

Min 50%

Hydrous potency

Min 1-106IU/g

Standard Plate Count

Max 10/g

Coliforms

Absent

E.Coli in 25g

Absent

Salmonella Species

Absent

Staphylococcus Aureus

Absent

Package: 10KG/carton

Storage: Stored in a dry and cool place, keep away from strong light and heat.

Shelf life: Two years when stored properly in a well-closed container.
Contact Us
6-5, West City Best Space, No 158 ZiXuan Road, HangZhou, ZHEJIANG,, Hangzhou, Zhejiang, 310012, China
Phone :+8613306501279