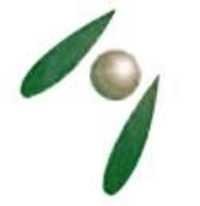 Spirulina
Product Description
Spirulina is a simple, one-celled form of algae that thrives in warm, alkaline fresh-water bodies. The name "spirulina" is derived from the Latin word for "helix" or "spiral"; denoting the physical configuration of the organism when it forms swirling, microscopic strands. Spirulina is being developed as the "food of the future" because of its amazing ability to synthesize high-quality concentrated food more efficiently than any other algae. Most notably, Spirulina is 65 to 71 percent complete protein, with all essential amino acids in perfect balance. In comparison, beef is only 22 percent protein. Spirulina has a photosynthetic conversion rate of 8 to 10 percent, compared to only 3 percent in such land-growing plants as soybeans.

In addition, Spirulina is one of the few plant sources of vitamin B12, usually found only in animal tissues. A teaspoon of Spirulina supplies 21/2 times the Recommended Daily Allowance of vitamin B12 and contains over twice the amount of this vitamin found in an equivalent serving of liver. Spirulina also provides high concentrations of many other nutrients - amino acids, chelated minerals, pigmentations, rhamnose sugars (complex natural plant sugars), trace elements, enzymes - that are in an easily assimilable form. Even though Spirulina is single-celled, Spirulina is relatively large, attaining sizes of 0.5 millimeters in length. This is about 100 times the size of most other algae, which makes some individual Spirulina cells visible to the naked eye. Furthermore, the prolific reproductive capacity of the cells and their proclivity to adhere in colonies makes Spirulina a large and easily gathered plant mass.

The algae are differentiated according to predominating colorations, and are divided into blue-green, green, red and brown. Spirulina is one of the blue-green algae due to the presence of both chlorophyll (green) and phycocyanin (blue) pigments in its cellular structure. Even though Spirulina is distantly related to the kelp algae, it is not a sea plant. However, the fresh-water ponds and lakes it favors are notably more alkaline - in the range of 8 to 11 pH than ordinary lakes and cannot sustain any other forms of microorganisms. In addition, Spirulina thrives in very warm waters of 32 to 45 degrees C (approximately 85 to 112 degrees F), and has even survived in temperatures of 60 degrees C (140 degrees F)

This ability of Spirulina to grow in hot and alkaline environments ensures its hygienic status, as no other organisms can survive to pollute the waters in which this algae thrives. Unlike the stereotypical association of microorganisms with "germs" and "scum", Spirulina is in fact one of the cleanest, most naturally sterile foods found in nature. Spirulina is also unusual among algae because it is a "nuclear plant" meaning it is on the developmental cusp between plants and animals. It is considered somewhat above plants because it does not have the hard cellulose membranes characteristic of plant cells, nor does it have a well-defined nucleus. Yet its metabolic system is based on photosynthesis, a process of direct food energy production utilizing sunlight and chlorophyll, which is typical of plant life forms.
Contact Us
801 YiTai Building, No.76, Gu Cui Road, Hangzhou, Zhejiang, 310012, China
Phone :86-571-81634009