Gellan Gum
Product Code : 01
Product Description
Gellan Gum
Gellan gum (E418) is commercially formulated by adopting aerobic submerged fermenting of Sphingomonas elodea which is formerly referred as Pseudomonas elodea. It is a bacterial exopolysaccharide or polymer with high molecular weight. Its manufacturing technique resembles to that of xanthan. Gellan gum was founded in 1978 and it received aproval in Japan in 1988. In 1992, USA authorized its utilization. The two variants of this product include low acyl and high acyl.

Gellan gum has two types of high acyl and low acyl.

A range of specialty products for a variety of food formulation
Comparison of Physical Properties of High Acyl and Low Acyl Gellan Gum
| | | |
| --- | --- | --- |
| | High Acyl Gellan Gum | Low Acyl Gellan Gum |
| Molecular Weight | 1~2×106 Daltons | 2~3×105 Daltons |
| Solubility | Hot water above 70℃ | Hot water above 80℃ or cold water with sequestrants |
| Sensitivity to cations | Relatively insensitive to ions | Very sensitive to ions, especially to divalent cations such as calcium ions |
| Gelling conditions | Just Cooling ( do not need cations ) | Cations, acids or soluble solids |
| Set temperature | 70~80℃ (158~176℉) | 30~50℃ (86~122℉) |
| Thermoreversibility | Thermo-reversible | Heat stable if using divalent |
| Gel texture | Soft and elastic gels | Hard and brittle gels |
Gellan solutions provides many kinds of gellan gum ingredients for food, pharmaceutical and industry.

| | | | | |
| --- | --- | --- | --- | --- |
| Gellan Solutions Ingredients | Applications | Gel Form | Acyl Level | Solution Clarity |
| GESOLGEL® HA | Food ( Protein drink, Juice ) | Soft, Elastic | High | Opaque, Milky |
| GESOLGEL® LA | Food (Beverage, Jellies ) | Firm, Brittle | Low | Transparent |
| GESOLGEL® AFG | Air Freshener | Firm, Brittle | Low | Transparent |
| GESOLGEL ® PH-LA | Pharmaceutical, Oral Care and Personal Care | Firm, Brittle | Low | Transparent |
| GESOLGEL® PH-HA | Pharmaceutical, Personal Care | Soft, Elastic | High | Opaque, Milky |
| GESOLGEL® MTC | Microbiological media and plant tissue culture | Hard, Brittle | Low | Transparent |
Gellan Solutions

Specialty Products Gellan Gum

Typical Applications

Typical Dosage

GESOLGEL® HAM

Dairy milk beverages

0.10~0.12%

GESOLGEL® HPS

Neutral plant protein based beverages

0.10~0.15%

GESOLGEL® HFS

Fruit juices Pulp suspension

0.025~0.035%

GESOLGEL® FS

High transparent fruit pulp suspending beverage

0.10~0.12%

GESOLGEL® WJ

Multi-layer, heat resistance water jelly

0.3~0.5%

GESOLGEL® FC

Heat resistance confectionery

0.2~0.5%

GESOLGEL® JIS

Icings, frostings, piping jellies, low- and reduced-fat frostings, sweet roll icings, royal icings

0.2~0.5%

GESOLGEL® JFF

Non-standard jams and jellies, fruit fillings

0.2~0.5%

GESOLGEL® BAK

Bakery fillings, Yogurt fruit

0.1~0.3%

GESOLGEL® MP

Meat Products

0.1~0.3%

GESOLGEL® PF

Canned pet food

0.1~0.3%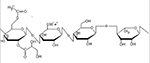 Contact Us
801 YiTai Building, No.76, Gu Cui Road, Hangzhou, Zhejiang, 310012, China
Phone :86-571-81634009