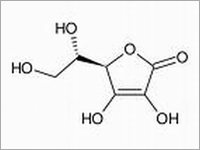 Ascorbic Acid
Product Description
Ascorbic Acid
We are engaged in exporter of ascorbic acid, ascorbic acid molecule, ascorbic acid vitamin c. Vitamin C is the most popular vitamin known, and is consumed in several supplemental forms across the world. It is widely preferred for its antioxidant properties.
Other Details:

Name: L-Ascorbic acid
Synonyms: Vitamin C; L-Threo-2,3,4,5,6-pentahydroxy-1-hexenoic acid-4-lactone
Molecular Formula: C6H8O6
Molecular Weight: 176.12
CAS Number: 50-81-7
EINECS: 200-066-2
Ascorbic Acids

Vitamin C or L-ascorbic acid is an essential nutrient for humans, a large number of higher primate species, a small number of other mammalian species (notably guinea pigs and bats), a few species of birds, and some fish.

Ascorbate (an ion of ascorbic acid) is required for a range of essential metabolic reactions in all animals and plants. L-ascorbic acid is made internally by almost all organisms, humans being a notable exception. Deficiency in this vitamin causes scurvy in humans. Vitamin C is also widely used as a food additive.

Ascorbic acid is well known for its antioxidant activity. Ascorbate acts as reducing agent to reverse oxidation in aqueous solution. When there are more free radicals (Reactive oxygen species) in the body versus antioxidant, human is under the condition called Oxidative stress.

Vitamin C is the most widely taken dietary supplement. Vitamin C is available in many forms including caplets, tablets, capsules, drink mix packets, in multi-vitamin formulations, in multiple antioxidant formulations, and crystalline powder. Timed release versions are available, as are formulations containing bioflavonoids such as quercetin, hesperidin and rutin. Tablet and capsule sizes range from 25 mg to 1500 mg. Vitamin C (as ascorbic acid) crystals are typically available in bottles containing 300 g to 1 kg of powder (a teaspoon of vitamin C crystals equals 5,000 mg).

Specification:
| | |
| --- | --- |
| Item | Specification |
| Characteristics | White crystalline powder |
| Identification | Positive reaction |
| Melting point | About 190 |
| pH | 2.1 ~ 2.6 |
| Clarity of solution | Clear |
| Color of solution | BY7 Max. |
| Iron | 2ppm Max. |
| Copper | 5ppm Max. |
| Arsenic | 3ppm Max. |
| Oxalic acid | 0.2% Max. |
| Heavy metals | 10ppm Max. |
| Sulphated ash | 0.1% Max. |
| Specific optical rotation | +20.5 ~ +21.5 |
| Assay | 99.0 % Min. |
Packing: 25kg/carton
Contact Us
6-5, West City Best Space, No 158 ZiXuan Road, HangZhou, ZHEJIANG,, Hangzhou, Zhejiang, 310012, China
Phone :86-571-81634009